Chapter 14:

ggplot2

Being able to create visualizations (graphical representations) of data is a key step in being able to communicate information and findings to others. In this module you will learn to use the ggplot2 library to declaratively make beautiful plots or charts of your data. Although R does provide built-in plotting functions, the ggplot2 library implements the Grammar of Graphics (similar to how dplyr implements a Grammar of Data Manipulation; indeed, both packages were developed by the same person). This makes it particularly effective for describing how visualizations should represent data, and has turned it into the preeminent plotting library in R. Learning this library will allow you to easily make nearly any kind of (static) data visualization, customized to your exact specifications.

(Examples in this module adapted from R for Data Science).

Helpful links:
14.1

A Grammar of Graphics

Just as the grammar of language helps us construct meaningful sentences out of words, the Grammar of Graphics helps us to construct graphical figures out of different visual elements. This grammar gives us a way to talk about parts of a plot: all the circles, lines, arrows, and words that are combined into a diagram for visualizing data. Originally developed by Leland Wilkinson, the Grammar of Graphics was adapted by Hadley Wickham to describe the components of a plot, including
the data being plotted
the geometric objects (circles, lines, etc.) that appear on the plot
a set of mappings from variables in the data to the aesthetics (appearance) of the geometric objects
a statistical transformation used to calculate the data values used in the plot
a position adjustment for locating each geometric object on the plot
a scale (e.g., range of values) for each aesthetic mapping used
a coordinate system used to organize the geometric objects
the facets or groups of data shown in different plots
Wickham further organizes these components into layers, where each layer has a single geometric object, statistical transformation, and position adjustment. Following this grammar, you can think of each plot as a set of layers of images, where each image's appearance is based on some aspect of the data set.
All together, this grammar enables us to discuss what plots look like using a standard set of vocabulary. And like with dplyr and the Grammar of Data Manipulation, ggplot2 uses this grammar directly to declare plots, allowing you to more easily create specific visual images.
14.2

Basic Plotting with ggplot2

The ggplot2 library provides a set of declarative functions that mirror the above grammar, enabling us to efficaciously specify what we want a plot to look like (e.g., what data, geometric objects, aesthetics, scales, etc. we want it to have).

ggplot2 is yet another external package (like dplyr and httr and jsonlite), so you will need to install and load it in order to use it:
install.packages

(

"ggplot2"

)  

# once per machine




library

(

"ggplot2"

)
This will make all of the plotting functions you'll need available.
Note that the library also comes with a number of built-in data sets. This module will use the provided mpg data set as an example, which is a data frame contains information about fuel economy for different cars.
In order to create a plot, you call the ggplot() function, specifying the data that you wish to plot. You then add new layers that are geometric objects which will show up on the plot:
# plot the `mpg` data set, with highway milage on the x axis and




# engine displacement (power) on the y axis:




ggplot

(

data =

 mpg) 

+




  

geom_point

(

mapping =

 

aes

(

x =

 displ, 

y =

 hwy))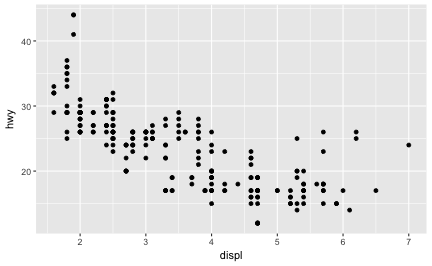 To walk through the above code:
The ggplot() function is passed the data frame to plot as the data argument.

You specify a geometric object (geom) by calling one of the manygeom functions, which are all named geom_ followed by the name of the kind of geometry you wish to create. For example, geom_point() will create a layer with "point" (dot) elements as the geometry. There are large number of these functions; see below for more details.

For each geom you must specify the aesthetic mappings, which is how data from the data frame will be mapped to visual aspects. These mappings are defined using the aes() function. The aes() function takes a set of arguments (like a list), where the name is the visual property to map to, and the value is the data property to map from.

Finally, you add geom layers to the plot by using the addition (+) operator.
Thus basic simple plots can be created simply by specifying a data set, a geom, and a set of aesthetic mappings.
Note that ggplot2 library does include a qplot() function for creating "quick plots", which acts as a convenient shortcut for making simple, "default"-like plots. However, for this course you should focus on thinking about plots in terms of the Grammar of Graphics and use the ggplot() function instead.
14.2.1

Aesthetic Mappings

The aesthetic mappings take properties of the data and use them to influence visual channels, such as position, color, size, or shape. Each visual channel can thus encode an aspect of the data and be used to convey information.

All aesthetics for a plot are specified in the aes() function call for that geom layer. For example, we can add a mapping from the class of the cars to the color channel:
# color the data by car type




ggplot

(

data =

 mpg) 

+




  

geom_point

(

mapping =

 

aes

(

x =

 displ, 

y =

 hwy, 

color =

 class))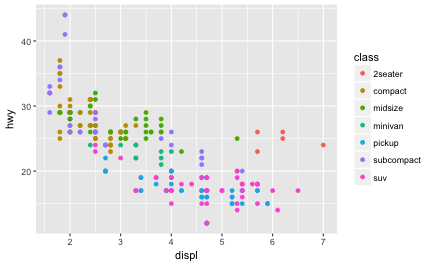 (ggplot2 will even create a legend for you!)
Note that using the aes() function will cause the visual channel to be based on the data specified in the argument. For example, using aes(color = "blue") won't cause the geometry's color to be "blue", but will instead cause the visual channel to be mapped from the vector c("blue")—as if we only had a single type of engine that happened to be called "blue". If you wish to apply an aesthetic property to an entire geometry, you can set that property as an argument to the geom method, outside of the aes() call:
ggplot

(

data =

 mpg) 

+




  

geom_point

(

mapping =

 

aes

(

x =

 displ, 

y =

 hwy), 

color =

 

"blue"

)  

# blue points!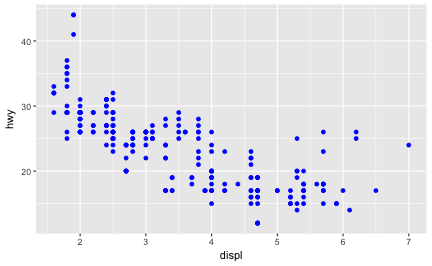 14.3

Complex Plots

Building on these basics, ggplot2 can be used to build almost any kind of plot you may want. These plots are declared using functions that follow from the Grammar of Graphics.
14.4

Other Visualization Libraries

ggplot2 is easily the most popular library for producing data visualizations in R. That said, ggplot2 is used to produce static visualizations: unchanging "pictures" of plots. Static plots are great for for explanatory visualizations: visualizations that are used to communicate some information—or more commonly, an argument about that information. All of the above visualizations have been ways for us to explain and demonstrate an argument about the data (e.g., the relationship between car engines and fuel efficiency).

Data visualizations can also be highly effective for exploratory analysis, in which the visualization is used as a way to ask and answer questions about the data (rather than to convey an answer or argument). While it is perfectly feasible to do such exploration on a static visualization, many explorations can be better served with interactive visualizations in which the user can select and change the view and presentation of that data in order to understand it.

While ggplot2 does not directly support interactive visualizations, there are a number of additional R libraries that provide this functionality, including:
ggvis is a library that uses the Grammar of Graphics (similar to ggplot), but for interactive visualizations. The interactivity is provide through the shiney library, which we will learn later in the course.

Plotly is a open-source library for developing interactive visualizations. It provides a number of "standard" interactions (pop-up labels, drag to pan, select to zoom, etc) automatically. Moreover, it is possible to take a ggplot2 plot and wrap it in Plotly in order to make it interactive. Plotly has many examples to learn from, though a less effective set of documentation.

rCharts provides a way to utilize a number of JavaScript interactive visualization libraries. JavaScript is the programming language used to create interactive websites (HTML files), and so is highly specialized for creating interactive experiences.
There are many other libraries as well; searching around for a specific feature you need may find a useful tool!